L'Aube, David Teboul : panthéonisation de Simone Veil, Panthéon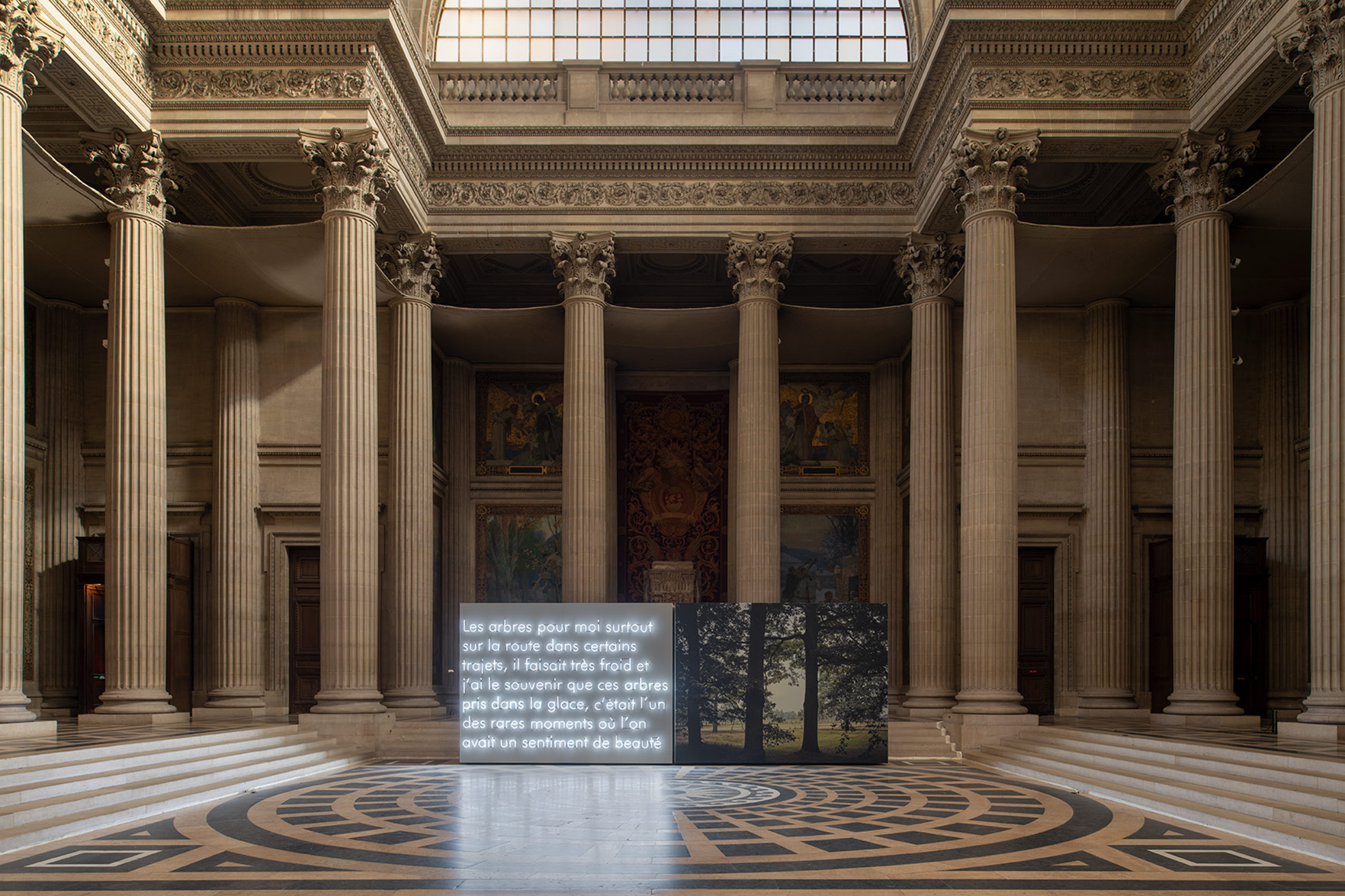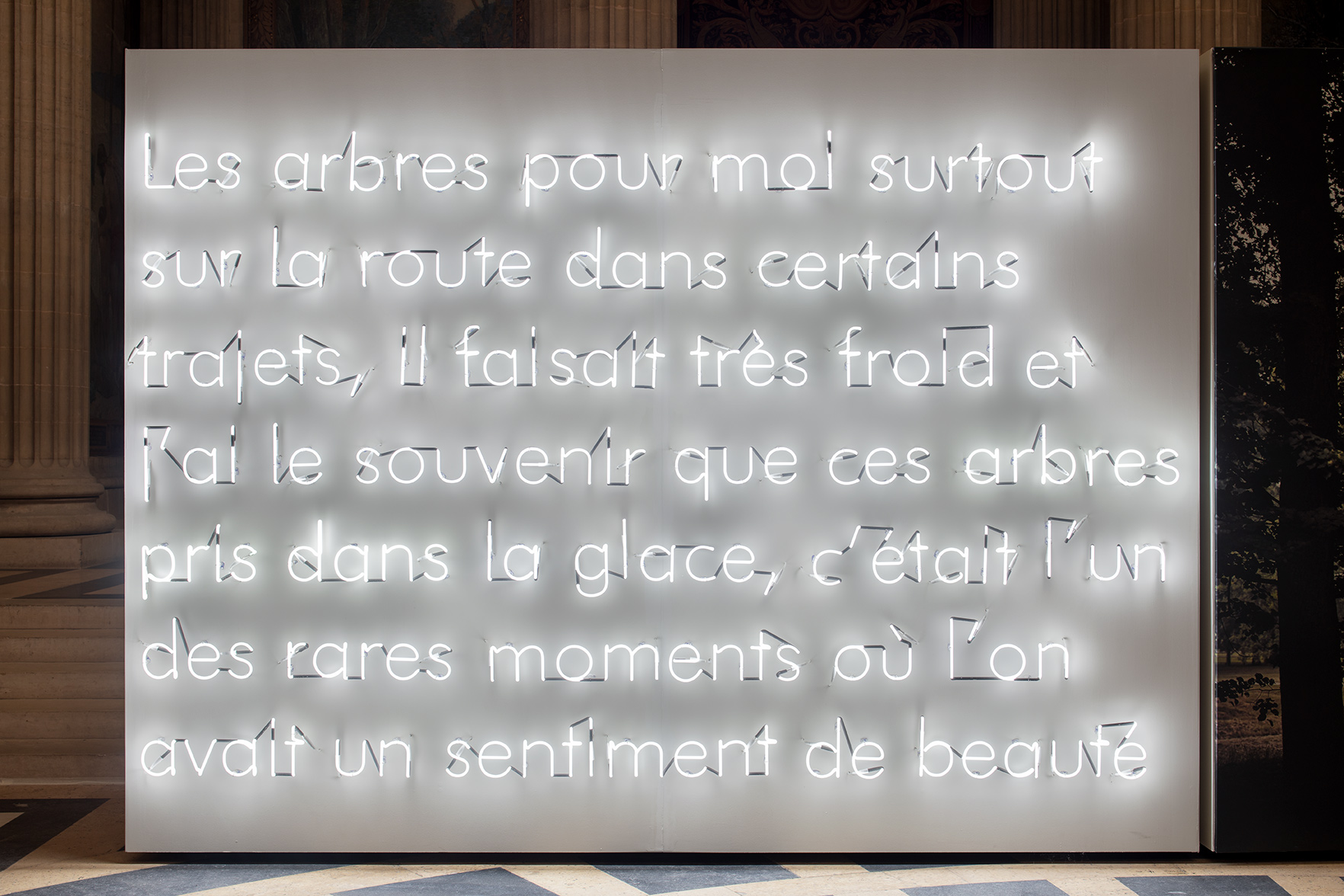 L'Aube – Dawn
Trees for me, especially on the road of certain journeys, it was very cold and I remember these trees being caught in the ice, it was one of the rare moments when there was a feeling of beauty.
I was ten years old when I saw Simone Veil for the first time, on a Tuesday evening in a programme called Les Dossiers de l'écran devoted to deportation. I was allowed to watch the television because Wednesday was a day without school; the choice was King Kong or the last episode of the American series Holocaust.
I was struck by the bun of her hair, her beauty and the depth of her gaze. It was at the end of the 1970s. Years later, in 2003, when I was thirty years old, the memory of this emotion remained sharp and I decided to make a film to be able to meet her.
Her secretary's response was final: "Mrs Simone Veil does not wish to participate in a film about herself." I called back and laid out my arguments: "I don't understand why Mrs Simone Veil does not wish to even meet me, does not give a chance to this desire to see and hear her." Simone Veil grabbed the phone angrily: "You really want to see me? Be at my office tomorrow morning at 8:30 a.m. But I'm warning you, my answer is no and I will not entertain you more than ten minutes. And please be on time!"
The following day, I was there and she was late, for which I was glad. The ball was in my court; I was persuaded that she would accept. She looked at me, troubled. I kept quiet. Her: "What is it that interests you about me?" Me: "Your hair bun, Mam". I felt that she was shaken.
She then told me that none of the women in her convoy were fully shaven, that she never knew why and that it saved her life. Without knowing, I had touched upon a crucial point of her deportation. This first story led to many others.
This immediately intimate encounter was the start of the film and the friendship that followed. Our hours of filming were made up of interviews as well as many moments of her daily life, particularly at her hairdresser's on the question of her and survival. Our trip to Auschwitz was painful and upsetting for Simone. She had come back of course for commemorations, but she had never wanted to look at the Birkenau barracks again where she had lived for several months. It was inside these barracks that she told me about their daily life, the three of them, Simone, Yvonne, her mother, and her sister Madeleine.
I had promised Simone Veil that I would one day come back to these interviews. I am able to keep this promise today, with the audio installation that I am proposing for her entrance in the Panthéon.
I wanted Simone Veil to be accompanied by her friends of convoy 71, that left on the 13th of April 1944 for Auschwitz via the Drancy camp and the Bobigny train station, 1500 imprisoned, of which 850 women, 624 men and 22 people whose identity was never known. Among them, 148 children under the age of ten and 34 children stolen from the Maison d'Izieu.
This installation is a tribute to the exceptional political career of Simone Veil as well as to her past as a survivor of Auschwitz. I also wished to distinguish the memory of racial deportation from that of the Resistance. The members of the Resistance were actors of the Liberation of France, heroic figures. Racial deportees, Jews and Gypsies, to which belonged Simone Veil, her family and many of her friends, had not enrolled to fight for the freedom of France. They were simply Jewish, like the millions of men, women and children who were gassed in Auschwitz.
This installation is a tribute to these millions of dead.
David Teboul, filmmaker, video artist and documentary maker.
L'Aube – Dawn
Visual and audio installation by David Teboul in 2 parts (neon lights and sound)
Simone Veil se confie – Simone Veil confides in me, audio installation, duration 9 hours.
Birkenau – audio installation, duration 1h56min
Les arbres à Birkenau – Trees in Birkenau, neon lights – 3m x 4m (circa)